Our Siberian Huskies are part of our family, they go everywhere and do everything with us! We are not your "typical" dog breeder. We decided to have our first litter of puppies because we saw what great temperments that our dogs possess. They are not only great with my husband and I, but are wonderful with our children; newborn to teen-agers! Contrary to what's said about the husky breed, they are very protective of our children as well! ALL of our puppies are raised indoors, around our five children (and their friends) and other pets, so they are very well socialized by the time they are ready for their new homes!
Family Raised
AKC Registered Siberian Husky Puppies
Each puppy is vet checked, de-wormed, given it's first set of vaccinations & micro-chipped before heading to their new home. In Addition, each puppy is AKC Registered & carries a Health Guarantee! Last, but not least, each puppy has it's own puppy folder filled with great information about the Siberian Husky breed, vaccination schedule & a lot of other beneficial information for a new puppy owner! In addition you will receive a puppy pack with food, toys and a blanket that smells like "home" for easier transition to his/her new home.
2 Puppies from one of
Cheyenne and Titan's litters :)
"Artic" - White Male w/ blue eyes
"Tundra" - B & W Male w/ blue eyes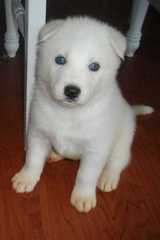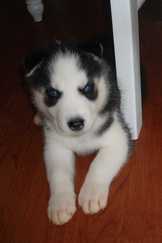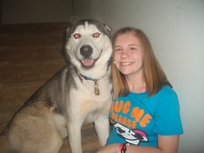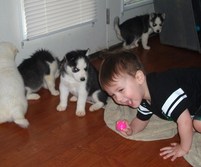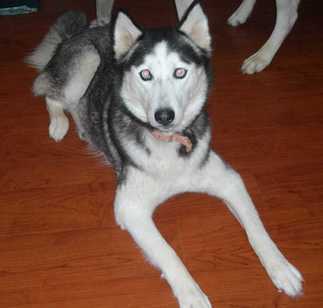 Cheyenne - One of our Mommy Dogs -
is an extremely smart dog, she is eager to learn new things and learns quickly! She is amazing with our entire family...she knows when she can play rough with daddy or when she needs to be gentle with the baby. Not to mention she is beautiful ~ she is black, grey and white with ice blue eyes! She is complimented by everyone that meets her!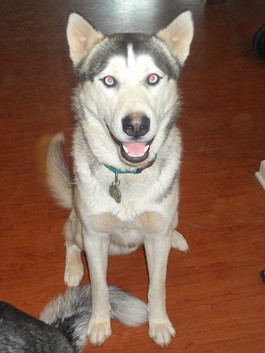 Titan - Our Daddy Dog
is not your ordinary husky! He loves to lounge around the house and just be lazy...you can also walk him without a leash...most huskies would dart off without a moments notice! Titan is also amazing with our entire family...even the cat! He, too, is black, grey and white with ice blue eyes! He is our gentle giant :)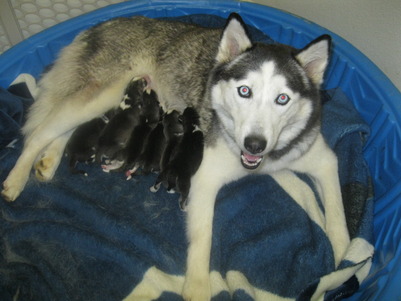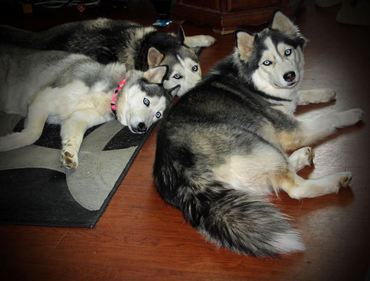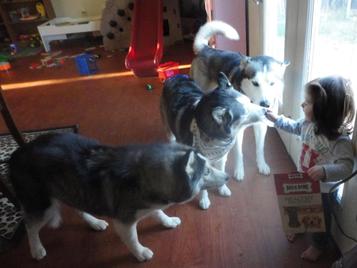 Amaya is the newest addition to our family! She came all the way from Alabama and will be ready to breed in the Summer of 2013. She has such a sweet
temperament
and is great with all 5 of our children and fits right in with our family!